Happy Monday!
I hope everyone had a wonderful weekend! Mine was consumed entirely by schoolwork. I'm trying my best to make up for the fact that I won't be doing any for two entire weeks.
Since I literally have nothing exciting to say about my weekend, I'm just going to dive right in to an Oscars recap. If you don't give a sh*t about award shows, you probably should stop reading now hahaha! Award shows are my guilty pleasure, so when I get the chance to ramble on about them for long periods of time, I tend to take full advantage!
Let's start with fashion shall we?
And naturally, I'm going to start with Lupita Nyong'o because there is no other woman that has consistently hit the nail on the head every single award show this year. While she could probably wear a garbage bag and look absolutely stunning, I ADORE her dress. And it was so lovely how she said that the blue color of her dress reminded her of her home in Nairobi.
Maria Menounous always looks beautiful as well! I love the shimmery neutral colored dress. Loving the hair aswell! It's not a totally outrageous jump out at you look, but it's classy and elegant. Love it!
Keeping with the neutral theme – Kate Hudson! I love a good cape. Again, with the shimmery. Beautiful earrings, hair, everything! Just SO stunning.
Kristen Bell is adorable in another neutral dress. Which she chose because it had a "frozen" vibe, of course! Frozen also won best animated feature film, and I squealed a little bit. I also really loved Idina's dress. And her performance?! Freaking amazing, but not that I expected any less.
Also, I LOVE that Kristen Bell tweeted about the fact she had a burrito stashed in her clutch. Woman after my own heart.
Cate Blanchett! She's always so elegant. Love everything about her look!
Oh, you know who had the prettiest hair at  the Oscars?
Jared Leto.
Long hair on men makes me want to vomit, but I'm actually jealous of his perfect ombre, loose curls, shiny & healthy looking hair. He's like a freaking walking Herbal Essence commercial. I was so happy he won Best Supporting Actor for Dallas Buyer's Club. His performance was so moving and wonderful, as was his acceptance speech.  I love me a man that speaks so highly of his mom.
Let's talk about Kerry Washington! I was kind of disappointed by her GG dress, and I feel like she redeemed herself for me with this Oscars dress. I LOVE the dark lips, and the naturally curly hair. Gorgeous! I can't believe how pregnant she is! I have no idea how they are going to hide  that baby bump for the rest of the season on Scandal.
(ps: wasn't last weeks Scandal INSANE?!!! I missed that show so much, I'm so glad it's back on. )
Keeping on the theme of beautiful pregnant ladies, we have Olivia Wilde! Also known as the luckiest girl in the world, as she is married to Jason Sudekis. I just love photos that show husbands taking pictures of their wives on red carpets. I think these two win most attractive couple, by far.  I love Olivia's jewellery, which help to dress up an otherwise simple ( but stunning) dress.
Kristin Chenoweth is like the real life version of Tinkerbell in my opinion. She's the tiniest little pixie! I love her golden dress! I kind of miss her long hair though, but she can also rock short hair!
And then we have Jennifer Lawrence in red! Definitely better than that odd Golden Globes dress. Very simple dress, hair, backwards necklace. I think she looks great! And, if you look at her at a certain angle, it looks like she still has long hair, pinned back. I miss her long hair!
Oh, and you remember how Jennifer fell down on her way up to the stage last year to accept her award?
Well this year she fell on the red carpet, before the awards even started. I could write a book about how much I love Jennifer Lawrence, to be quite honest.
Chrissy Teigen also had a gorgeous dress! It reminds me of spring, and I'm all about that right now. Also, she was livetweeting during the whole show, and it was absolutely hilarious. Actually, she is hilarious 100% of the time on twitter, I highly recommend you follow her.
There were also a few killer looks from the after parties that I loved!
Mindy Kaling
Jennifer Lawrence ( I'm kind of on the fence about this one..but there is just something about it that I love!)
Ellen Page. I'm not sure why I like this but I do!
Amy Poehler! Obvs. You can't see it well in this picture but I really loved her hair.
So those are my favorite dresses! Now, for the actual awards?
Ellen killed the opening monologue. I particularly enjoyed the joke about the LA rain. A Liza Minelli joke was made, and Liza did NOT appreciate it. Loved Pharell's performance of Happy! Aside from his fucking hat. I honestly just want to push his hat on his head so it's sitting normally. Is it really that hard? Also, can we take a minute to appreciate Meryl's shimmy?
Ellen handed out pizza. And, for the first time in my life, I wish I was a pizza guy.
Gravity won essentially every award. I'd say they deserved it, but I can't even watch the trailer to that movie without feeling like my heart is going to explode. Space gives me the creeps. The in memoriams gave me the sads. Bette Midler sang immediately after, and I got the chills. Pink sang a really beautiful rendition of Over The Rainbow as a tribute to Wizard of Oz.  Ellen made several hilarious references to Jonah Hill's penis ( watch Wolf of Wall Street to fully understand this). The best selfie in the history of selfies was taken :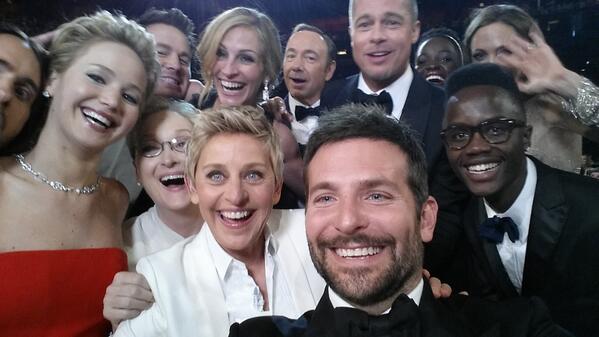 John Travolta introduced Idina Menzel's performance of "Let It Go". Atleast, that's what he was SUPPOSED to introduce. He chose to pronounce Idina's name as something similar to Abu Nazim. Honestly. Proof.
And still no Oscars for Leo
Lupita Nyong'o won best supporting actress and it was wonderful! You could tell she was so truly grateful and overwhelmingly happy. Amazing acceptance speech! Cate Blanchett came out of nowhere and won best actress, and gave a lovely speech. Twelve Years A Slave won Best Picture, and confirmed the fact that I absolutely need to make the time to watch that film. Matthew McConaughey won Best Actor (ALRIGHT ALRIGHT ALRIGHT).
Overall Ellen did a fantastic job hosting, in my opinion. The Oscars can be the dryest & longest of the award shows, but I didn't feel bored for longer than it took for Gravity to win another award. The moral of the story is that funny women should host all awards shows, always.
So that's my recap! I'll leave you with one of my favorite quotes from the acceptance speeches  :
" When I look down at this golden statue may it remind me, and every little child, that no matter where you are from, your dreams are valid."
– Lupita Nyong'o 
Did you watch The Oscars? Favorite dresses? Moments?